Increase Sales and Improve Communications.
Deliver the right message at the right time with PBC's Digital Signage Solutions.
All-in-One display solution. No need to purchase any additional hardware or software. Deliver your messages while broadcasting live channels simultaneously.When you need to get the message across, count on Point Breeze Communication's digital signage solutions. Easily manage one or multiple signs with complete control from your mobile device or computer. The latest technology allows you to communicate directions, alerts, promotional messages and more. It's the reliable way to display across separate video screens spread throughout hotels, buildings, campuses and other large environments.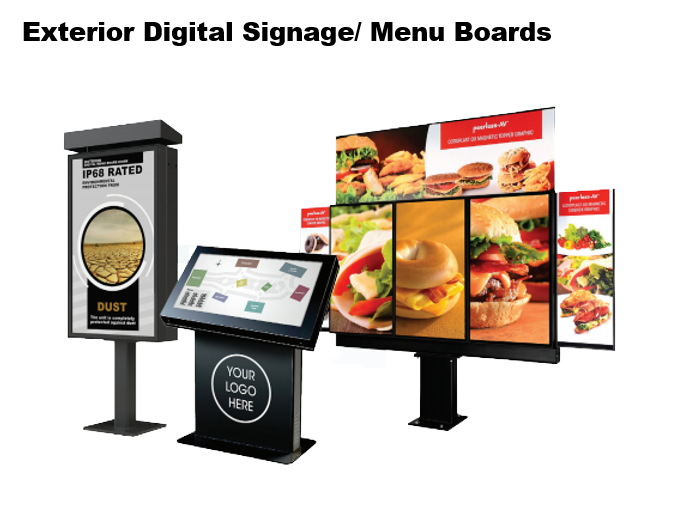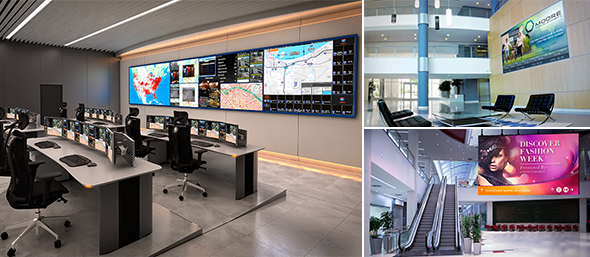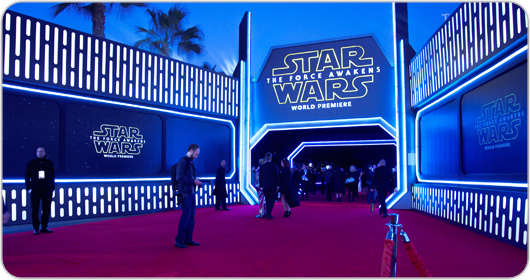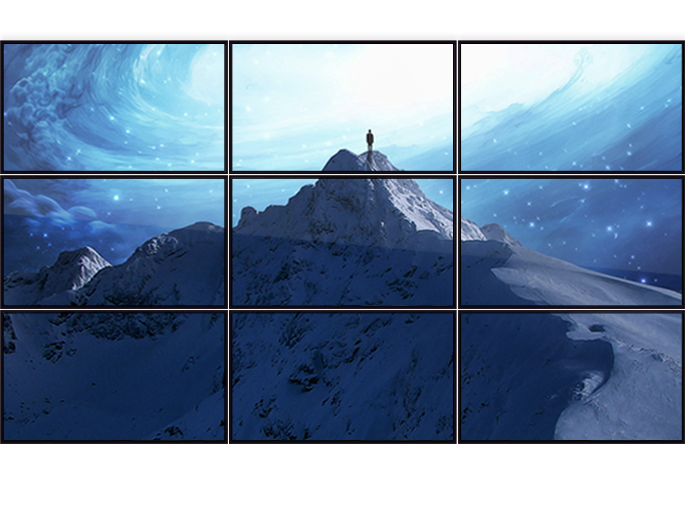 Point Breeze Communications creates ultra-fine pitch direct view LED video walls that provide a superior visual experience, and 24×7 reliability tailored to your unique indoor environment. LED video walls incorporate design principles gained from decades of successful video wall installations and is ideal for the most demanding control room and digital signage applications, providing a uniform and seamless canvas of nearly any size or shape. Point Breeze Communications video walls have been installed in multiple high security government agencies.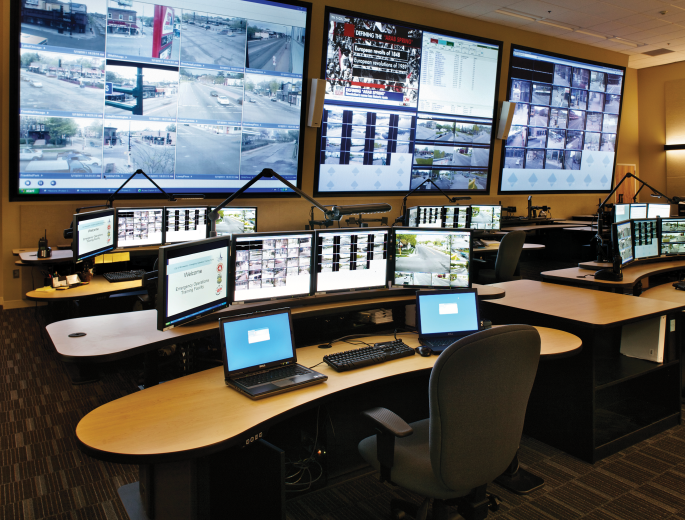 Critical applications call for uncompromising solutions. That's why military operations, law enforcement, and government agencies all rely on Point Breeze Communications to provide the advanced hardware and software necessary to manage the most intensive emergency, surveillance, and operation's needs. Our customized solutions are flexible and comprehensive, including the ability to route multiple AV sources from multiple locations, perform simultaneous HD broadcasts, and control it all from a unified interface.
Video Collaboration and Unified Communications
Work side-by-side with your team, even when you're miles apart. Point Breeze Communications video collaboration solutions are a whole new way to share, collaborate, and communicate in real time as if you were in the same space, saving your organization travel time and money. Best of all, with Cisco®, Microsoft® and Polycom® integration built-in the Crestron video collaboration solutions work seamlessly with your existing technology. Point Breeze offers the latest solutions from Polycom, Cisco, Life-size, Clearone, Avaya, Jabra and Plantronics. We support and integrate H.261, H.263, H.264, H.323 ITU-T video compression standard solutions.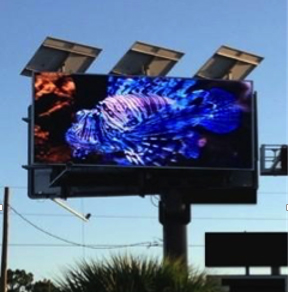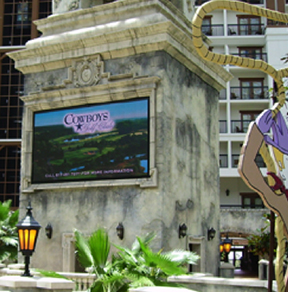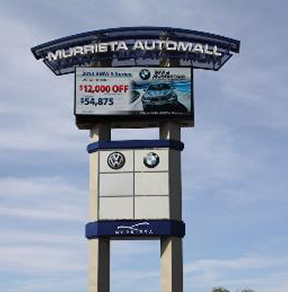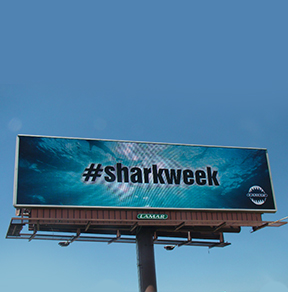 SKYPANEL™SERIES
A GAME CHANGER IN DIGITAL SIGNAGE
The SKYPANEL™ series of full-color, digital Display systems incorporate a revolutionary, Patented, low-profile, fanless design and feature the latest in high-brightness LED display technology. The energy-efficient, modular configuration
Is designed to be easily installed on virtually any Surface, and provide high levels of upgradable Display performance at the most affordable cost.
281 Trillion Colors
100,00+ hour LED lifetime
Uses 65% less power
Low-profile, lightweight design reduces need for structural upgrades 12.5" H × 25"W X 3.5"D Panel

Want a bigger sign? No problem the new Technology allows for length and width expansion.

19.88mm Optimum performance and efficiency for medium to long range viewing.
15.8mm Intermediate resolution for installations closer to your viewing audience.
9.9..mm High resolution industry mainstay, suitable for most indoor/outdoor applications
AMERICAN-MADE QUALITY. SUPERIOR RELIABILITY
Approved manufacture for LAMAR Billboards.
5 year warranty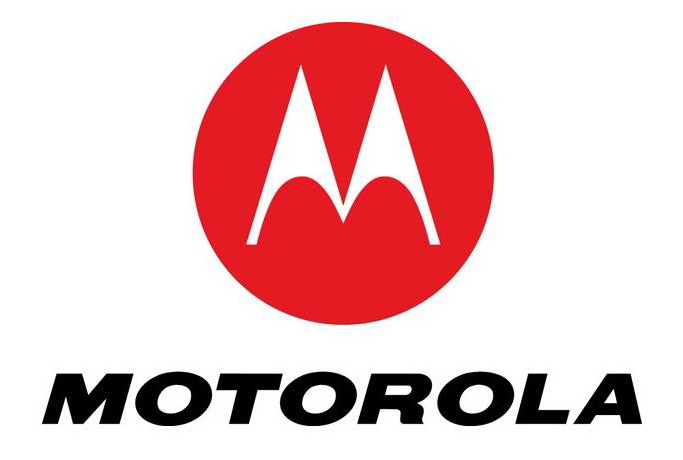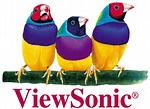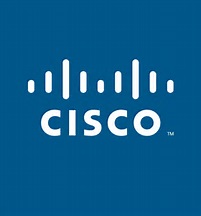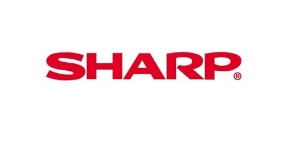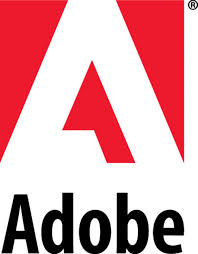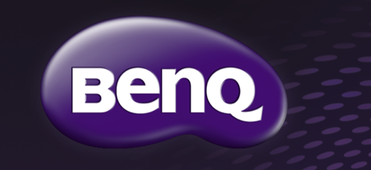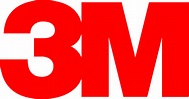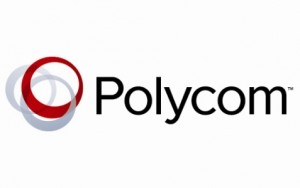 Physical Security Solutions
<embed type="application/x-shockwave-flash" src="http://wpc.137A.edgecastcdn.net/00137A/SWFs/player-licensed.swf" width="409" height="262" id="mpl" name="mpl" quality="high" flashvars="skin=http://wpc.137a.edgecastcdn.net/00137A/skins/implay.zip&dock=false&controlbar.position=bottom&file=im_physical_security.flv&streamer=rtmpt://fms.137A.edgecastcdn.net/00137A/security&image=http://wpc.137A.edgecastcdn.net/00137A/security/images/im_physical_security.jpg" allowfullscreen="true">