LockPORT

Layer 1 security tool • Prevent unauthorized network access. • Stop accidental disconnects. • May require a removal tool. • Safeguard wireless, PoE, and security connections. • Ideal for public areas in hospitals, airports, hotels, shops, and more. • Lock up classroom cables. • Protect network connections in co-location data centers. • Guaranteed for life!
Two levels of security
Key Lock Cables • Use for absolute security. • Once locked, they stay locked until you release them with a "key." Secure Lock Cables • Prevent accidental disconnects. • A special clip secures the cable, but it doesn't require a "key."
[download]If you are looking for a To-Go or PDF Version of the LockPORT Cables:
Please Download a Printable Line Card.
[/download]
---
SpaceGAIN

SpaceGAINcables and panels—unique space-saving solutions for high-density infrastructures, crowded cabinets, and the desktop. Reduce cabling space, management, and costs.
Today, as more and more IT managers move to high-density configurations, space in the data center is becoming more and more valuable. This applies to the desktop, too. Increasingly, people are working with two monitors, a standard keyboard, plus a laptop on their desktop. Space—and cabling—is becoming a real issue. SpaceGAIN is a family of patch cables and panels designed to help you create space instead of taking up space in the data cabinet and at the desktop.
Found only at Black Box, SpaceGAIN cables and patch panels will help turn tight spaces into right spaces. You'll gain space for cabling in the closet and reduce cable management, installation time, and costs. At the desktop, you'll tame cable chaos and make much neater cabling connections. Plus, you'll be able to easily make those really tight, hard-to-fit wallplate connections behind desks and furniture.
SpaceGAIN started with some hands-on research. We worked in our data lab and actively developed and tested the SpaceGAIN products. The result is a space-saving solution produced for Black Box customers.
The SpaceGAIN family consists of: • 90° Right-Angle Patch Cables, Unshielded and Shielded • 6″ Reduced-Length Patch Cables • 45° Angled-Port Patch Panels • Multimedia Patch Panels • Angled Patch Panels • 24-Port 1⁄2 U Patch Panels • 48-Port, 1U, High-Density Feed-Through Patch Panels
Best of all, SpaceGAIN products are guaranteed for life.
[download]If you are looking for a To-Go or PDF Version of the SpaceGAIN Cables:
Please Download a Printable Line Card.
[/download]
---
Solutions for your network closet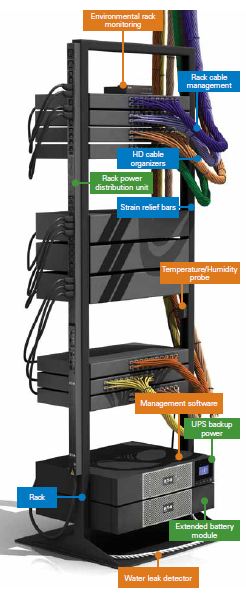 To ensure a reliable, efficient and safe networking environment, keep three key things in mind: organization, protection and management.
Organization
Keep servers, switches and storage equipment safe and secure
Clear the rack area of cluttered network cables
Improve airflow and reduce cooling costs

Protection
Distribute and provide safe and clean power to IT equipment during power outages, surges and voltage problems
Provide reliable and redundant power solutions for critical systems
Maintain service level agreements

Management
View your power network and all equipment attached to it from your remote/virtual machine console
Aggregate multiple UPS/power instances
Monitor your temperature/humidity environment
Receive instant access to alerts and monitor your environment remotely